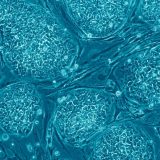 A DNA vaccine targeting a specific cancer marker
Cancer cells produce an enzyme which is key to their unlimited proliferation, but is nearly never expressed in normal cells. This enzyme is the telomerase.
Our lead product, INVAC-1 is a human telomerase DNA-based anti-cancer vaccine. It aims at mobilizing the immune system against the human telomerase complex (named hTERT), which is overexpressed in 90% of human tumors, but is virtually absent from normal cells.
The vaccine's effect is twofold. First, it activates the CD8+ Cytotoxic T cells, also called killer T Cells, which are capable of killing cancer cells. Second, it also turns on CD4+ T helper cells, which regulate the immune response and stimulate the cytotoxic T cells.
INVAC-1 completed its Phase I trial in various advanced cancer indications in June 2018, demonstrating satisfying safety and immune response.
Invectys Inc. is using the needle-free injection system (NFIS) Tropis to reduce patient discomfort.
In addition to its development, Invectys is working on combining INVAC-1 and other anti-cancer therapies. INVAC-1 could significantly increase the efficiency of other anti-cancer products, particularly Immune Checkpoint Inhibitors.
Below is additional information on INVAC-1:
INVAC-1 Mechanism of Action
Intradermal (ID) NFIS administration (A)
Plasmid penetration in APCs is enhanced by electroporation or needle-free injection system (B)
Expression of hTERT protein, Degradation into small peptides, Presentation on MHC class I and II molecules, Stimulation of hTERT-specific CD4 and CD8 immune responses (C)
CTL-mediated lysis of tumor cells presenting substantial amount of class-I restricted hTERT peptides (D)
INVAC-1 Phase I clinical information
INVAC-1 completed a Phase I trial in various cancers in June 2018.
I – Study Design
26 patients with various cancer indications, divided into cohorts of increasing dosage, with each group receiving at least 3 cycles of immunotherapy.
Objectives were to assess toxicity, tolerance, safety and immune responses; as well as efficiency and immune response duration.
II – Study Results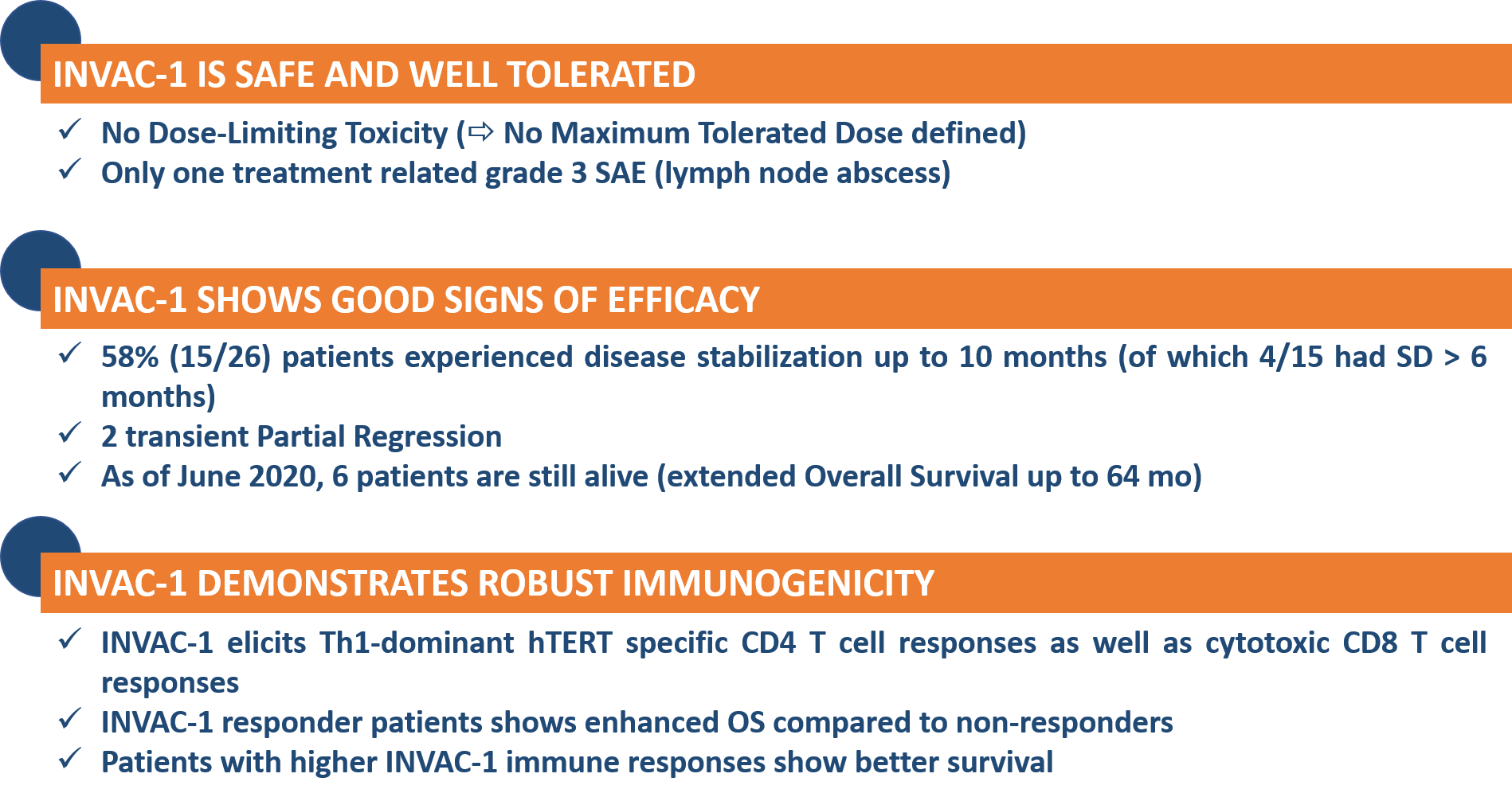 Preliminary results were presented in posters at ESMO 2018, ASCO 2019 and CICON 2019.
Full results were published in an article titled « A First-in-Human Phase I Study of INVAC-1, an Optimized Human Telomerase DNA Vaccine in Patients with Advanced Solid Tumors » in Clinical Cancer Research.
A glossary is available for technical definitions.