Pipeline Depth Underpinned by Multiple Indications and Platforms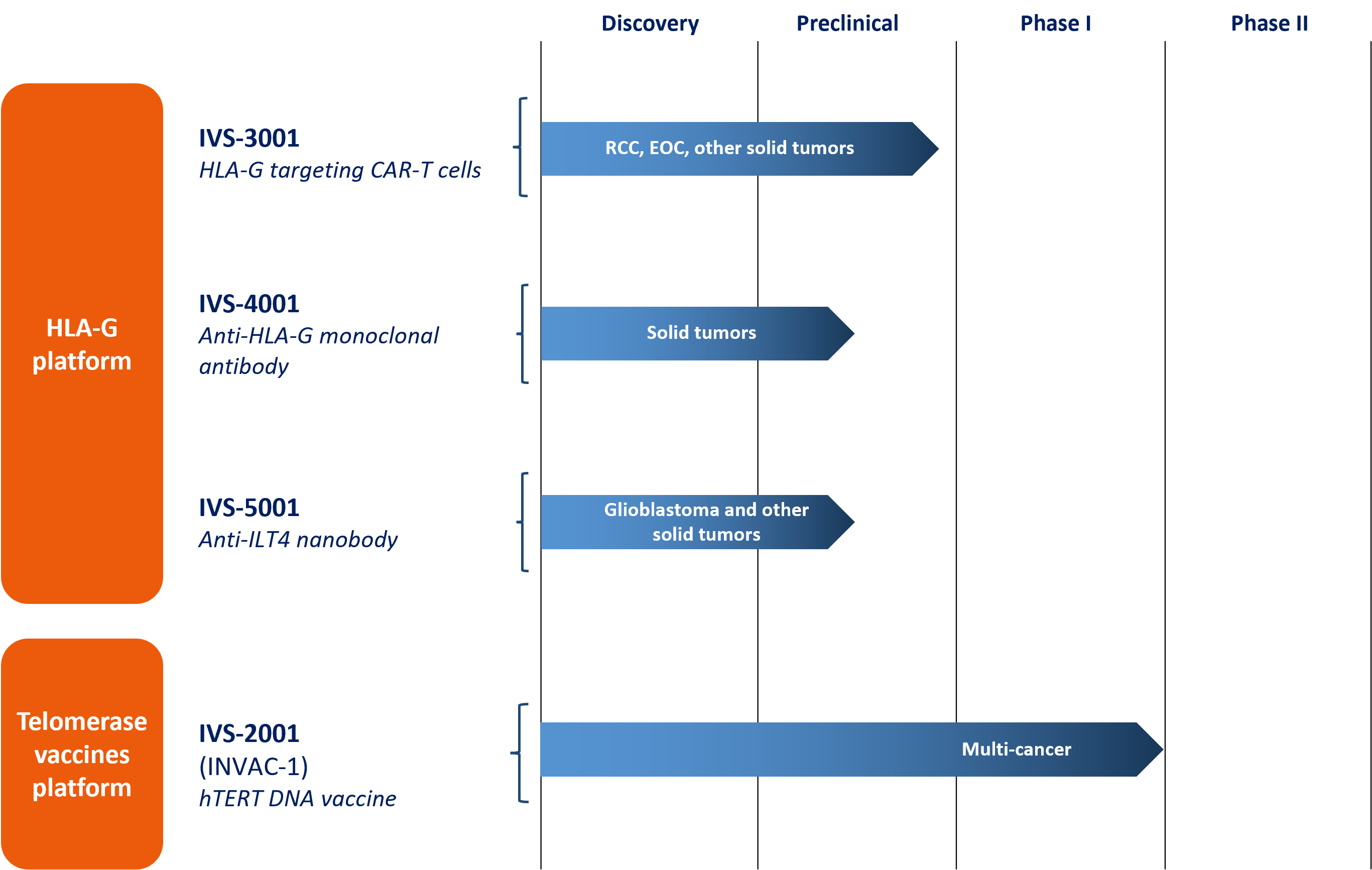 Invectys Inc. develops a full range of innovative and very promising immunotherapeutic oncology products for human health:
HLA-G Checkpoint Platform: pre-clinical programs based on the HLA-G immune checkpoint
IVS-2001: DNA-based vaccine expressing an inactivated human telomerase
HLA-G Platform
Invectys' HLA-G technology branches out into two main applications: a line of Immune CheckPoint inhibitors and CAR-T Cells. HLA-G is an immune checkpoint, naturally present at the fetal-maternal interface, which blocks the strongest immune response currently known: the allogeneic response. Because of its broad action over the immune system, it is used by at least 50% of tumor cells to evade the immune response.
IVS-3001: CAR effector cells targeting HLA-G positive tumor cells
Chimeric Antigen Receptors (CARs) are artificial receptors, derived from monoclonal antibodies specific to a tumor antigen, which are implanted on T cells to redirect these cells against said tumor antigen. Invectys has generated several chimeric antigen receptors directed against HLA-G.
In vitro, these anti-HLA-G CAR-Ts targeted all immunosuppressive HLA-G isoforms, either associated or not with the β2-microglobulin, and lyzed HLA-G expressing tumor cells.
This project was rewarded with the CPRIT Award 2020, the Matwin « Best Project » Award 2019, and highlighted at the ESMO Immuno-Oncology 2019.
IVS-4001: novel Immune Checkpoint Inhibitors (ICI)
Invectys was able to produce a new generation of monoclonal antibodies specific to HLA-G and inhibitory monoclonal antibodies are currently isolated to target and disable this checkpoint to restore immune functions. IVS-4001 is a neutralizing ICI, aiming at inhibiting the immunosuppressive functions of HLA-G and disrupting the tumor micro-environment.
IVS-5001: anti-ILT4 nanobodies
Invectys' IVS-5001 is a VHH molecule designed to prevent ILT4 inhibitory receptor binding HLA-G and other ligands. Although ILT4 is an inhibitory immune receptor, it can also be neo-expressed on tumors, enabling greater proliferation and dissemination capabilities upon interaction with HLA-G or ANGPTL-2 pro tumoral proteins. IVS-5001 is a first in class VHH specific to the ILT4 inhibitory receptor, demonstrated to block not only ILT4's interaction with HLA-G but also with ANGPTL-2. This VHH could potentially reprogram immuno-suppressive microenvironment, to restore anti-tumoral activity.
IVS-2001: a Phase I DNA vaccine targeting telomerase
The IVS-2001 DNA vaccine contains a plasmid encoding an inactive yet immunogenic form of human telomerase, which is optimized to facilitate degradation and enhance peptide presentation and telomerase-specific immune responses.
The Phase I trial has demonstrated very promising clinical results in patients with various grade IV cancer indications.
A glossary is available for technical definitions.