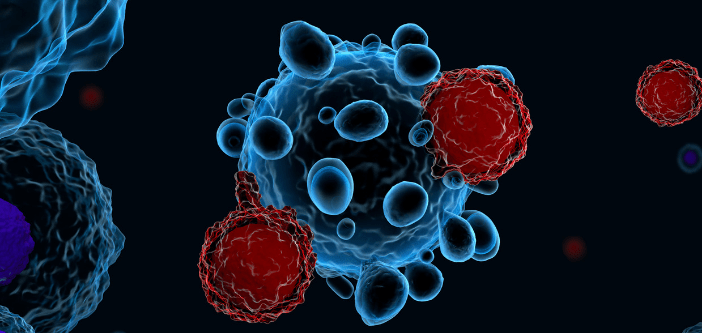 Modified autologous CAR T cells to eliminate HLA-G-bearing cancer cells
a) What are CAR-T cells?
Chimeric Antigen Receptors (CARs) are artificial receptors, derived from monoclonal antibodies specific to a tumor antigen, which are implanted on T cells to redirect these cells against said tumor antigen. In practice, CD8+ T cells are first isolated from a patient, and modified to express the CAR directed against said patient's tumor marker. The modified T cells (now called CAR-T cells, or CAR-Ts) are then reinjected into the patient and will seek and destroy the cells displaying the targeted antigen. For this reason, it is crucial to have a tumor specific antigen not expressed on healthy cells to avoid any side effects. Given the characteristics of HLA-G, it is the best tumor specific antigen to cancerous cells. These CAR-Ts are called autologous, as they are based on the patient's own cells.
Drawing on its HLA-G platform, Invectys has developed a 3rd-generation CAR construct, named IVS-3001, allowing anti-HLA-G CAR-T cells to target and kill HLA-G-bearing cells. These are the first in class CAR-T cells engineered to target the immune checkpoint HLA-G.

IVS-3001 is currently in late stage preclinical development and was granted a $14.2 million CPRIT funding by the State of Texas to initiate clinical trials in 2023 against advanced carcinoma.
b) In vivo results
IVS-3001 has demonstrated in vivo its ability to migrate to tumor sites and destroy HLA-G-bearing cells. Mice treated with anti-HLA-G CAR-T cells have shown a near-total absence of tumor growth.
c) unique benefits
IVS-3001 is not hindered by the immuno-suppressive effects related to the HLA-G interaction with the ILT2 receptor which could be expressed by T cells.
Since HLA-G expressing tumor cells were shown to induce suppressive APC, regulatory T cells and suppressive NK cells displaying HLA-G on their surface, by eliminating HLA-G+ cells, Invectys' CAR-T cells disrupt the HLA-G related immuno-suppressive microenvironment created by the tumor, allowing the restoration of the patient's immune response.
HLA-G represents the best tumor specific antigen to date since it is almost not expressed on healthy tissues. Adverse events related the "on-target, off-tumor" effects will be very limited if not absent.
IVS-3001 covers the main immuno-suppressive HLA-G isoform expressed by carcinoma
d) External recognition
The IVS-3001 project was awarded by multiple independent organisms:
Cancer Prevention Research Institute of Texas award 2020
"Best Project" award at the MATWIN 2019 competition
CAR-T poster selected for top 10 at ESMO Immuno Oncology, Geneva, December 2019
Awarded by the EU-funded (France, Germany, Italy & United Kingdom) collaborative research project CARAT (Chimeric Antigen Receptors for Advanced Therapies)
A glossary is available for technical definitions.