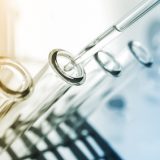 Invectys starts the third dose level of its phase I clinical trial evaluating INVAC-1, an innovative anti-cancer therapeutic vaccine 
A new clinical hope in cancer immunotherapy
October 30th, 2015 Paris – Invectys announces today the start of the third and last dose level in the phase I clinical trial (INVAC1-CT-101) evaluation of its immunotherapeutic drug candidate INVAC-1.
This trial recruits advanced stage cancer patients and is conducted in two French clinical oncology centers located in Paris, Saint-Louis and George Pompidou hospitals. The primary objectives of this study are to evaluate safety, tolerability and immune responses induced by INVAC-1. A secondary trial objective is to evaluate the efficiency of this new therapeutic vaccine by assessing tumor responses and their duration along the study and beyond.
This trial is an open label, dose escalation study in patients with relapsed or refractory solid tumors. A total of 9-18 patients are scheduled to be included progressively in three cohorts according to three increasing dose levels of INVAC-1, followed by an extension cohort at the optimal dose chosen according to tolerance and efficiency as defined in the trial objectives.
The two previous cohorts of patients, corresponding to the first two dose levels, were treated with success. INVAC-1 showed a good safety profile and was well tolerated at these doses. In addition, encouraging clinical observations were made. Three out of 6 patients showed stabilized disease along treatment cycles, some for as long as 9 months. In some patients, a specific immune response mediated by INVAC-1 against telomerase was also demonstrated
The safety/tolerance results and encouraging clinical observations confirm our confidence in the drug candidate INVAC-1. Based on these data, the Data and Safety Monitoring Board appointed for this trial granted a favorable opinion to move ahead with the third cohort of patients, which corresponds to the highest dose to be evaluated in this study
said Dr. Thierry Huet, R&D Director at Invectys.
These findings are very encouraging and we look forward serenely to the proceedings of an extension cohort at the dose presenting the best efficiency/tolerance ratio
added Dr. Remy Defrance, Invectys' Medical Director.
To date, the treatment of the third patients' cohort, with the vaccine highest dose, was already initiated.
The preliminary data from the first patients treated show a good tolerance and signs of clinical efficacy
said Pierre Langlade Demoyen, CEO and founder of Invectys, who added
we are delighted with these promising results that show the potential of our therapeutic vaccine. We hope to open up new therapeutic alternatives for patients with cancer.
About INVAC-1
INVAC-1 is an innovative therapeutic DNA vaccine, which specifically targets the telomerase enzyme (hTERT) that is overexpressed in the vast majority of cancer cells and which plays a critical role in uncontrolled cell growth.
About Invectys
Founded in 2010 and based in Paris, Invectys is a biopharmaceutical company specializing in the development of innovative immunotherapies for cancer treatment.
Invectys exploits a novel approach to mobilizing and restoring the anti-tumor capacity of the immune system of cancer patients. This allows targeting practically all cancers. Invectys converged on the universal tumor antigen telomerase that is critical to uncontrolled cell growth.
Thanks to an exclusive worldwide license agreement, Invectys has access to a strong patent portfolio of the Institut Pasteur. Since its creation the company has reinforced and developed its own patent portfolio that covers all its technologies and products.
To know more about Invectys – www.invectys.com or contact us.
Press Contact:
Acorelis – Gilles Petitot – +33 (0)6 20 27 65 94